Unbreak My Blonde Multi-Step System: Meet your new start to finish blonding service
Matrix | October 22, 2019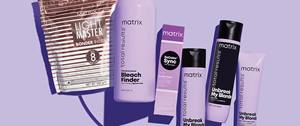 Support your clients on their colour journey, whether they're blonding addicts or first time blonders.
Support your clients on their colour journey, whether they're blonding addicts or first time blonders.
It's official, blonding is addictive and with over 40% of clients opting to go lighter, it's clear that Blonding means Business. However, 64% of women in the UK have a dark base of 5 or below, meaning to achieve their desired look they may be exposing themselves to damage. Thanks to the new Unbreak My Blonde multi-step system you can now blonde and care with confidence.
Unbreak My Blonde: A Start to Finish Blonding Service
The Unbreak My Blonde range completes a multi-step start-to-finish blonding service.
Step 1: Start with Light Master 8 with Bonder, which offers up to eight levels of lift. Our best-seller lightener, now comes pre-mixed with Bonder already inside to hep protect bonds, and keep fibers strong when lightening.
This formula not only saves you time, as you don't need a separate bonder step, but helps keep your clients' hair fibres strong throughout the lightening process.


Read all about our pre-bonded colour system here
Step 2: You'll want to get your hands on Matrix's latest innovation, the new Bleach Finder Shampoo. This one-of-a-kind shampoo is perfect for targeting and removing lightener particles via our unique colour-changing formula. It also works to lower the pH of the hair from alkaline back towards acidic leaving hair smooth and strong. The smart formula starts yellow and turns white… if no bleach is detected. If it turns pink, then it means there is residual lightener which means you need to keep emulsifying the shampoo for around 3-4 minutes to ensure that the lightener is rinsed out.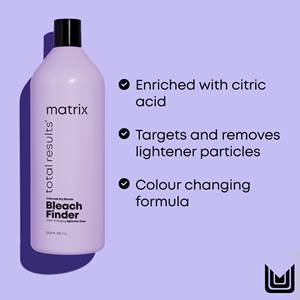 Not convinced all the lightener is gone? Then shampoo again until there is no pink left. Smart, right? The formula prevents further oxidation that can lead to damage and is enriched with citric acid to strengthen the hair and balance the pH levels. Removing all the bleach means that you'll achieve an even result with no patchy toning results. It's worth noting that some strands can be porous meaning they will cling on to lightener however much you rinse— two full shampoos and a light third shampoo with Bleach Finder will ensure even the most porous hair is ready for the next step in the process.
Step 3: Achieve your client's dream blonde with our unique SoColor Sync Opal Acidic Toner for Iridescent Shine and a long-lasting result. Pre-blended for ease of use and pre-bonded (just like the Light Master 8 with Bonder) they help to protect the inner structure of the hair, colour after colour*.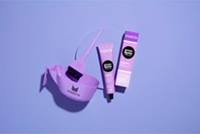 Step 4: Finish the service with Unbreak My Blonde range from Total Results to leave hair up to 3x stronger**. The range (that clients can also buy and take home) includes three hardworking products: Strengthening Shampoo, Conditioner and Reviving Leave-In Treatment all with conditioning polymers and citric acid to nourish and deeply condition the hair, reinforcing sensitised and weakened strands at every step. The products are super gentle but still able to restore and revive over-processed hair.
The thick, creamy shampoo gently cleanses, lathers beautifully and prevents unwanted frizz and fluff. The conditioner also contains citric acid to deeply condition, nourish and soften the strands without weighing the hair down. Lastly, the leave-in treatment provides added moisture, prevents damage and takes away any brittleness leaving hair softer, smoother and shinier.
Unbreak My Blonde: The Benefits For Your Business


Follow the Unbreak My Blonde multi-step system and it takes out any guesswork, plus you save up to 20 minutes per colour client. How? Well, that's all thanks to the to pre-bonded formulas. There's no need to apply a separate bonder - this in-built protector takes away the extra hassle of measuring and mixing, and there is no need for a step 2 sealer at the backbar - helping you save both time and money.
The Unbreak My Blonde Strengthening Shampoo, Conditioner and Reviving Leave-In Treatment are take home products, so you can recommend these to clients to ensure they can protect their blonde at home. The product range can be used alongside any other Matrix products. It's worth recommending So Silver or Brass Off as an alternate, so they can neutralise unwanted orange and yellow tones in the hair. So Long Damage is also a great range for blondes, infused with ceramides, it improves elasticity and moisture retention.
So whether your client is a blonding addict or first time blonder, Unbreak My Blonde can help reduce damage and support you in getting a result your client will love.
*assessed after 7 applications on sensitized hair.
**combing test on bleached hair. Shampoo, conditioner & leave -in vs. classic shampoo.